Have you ever noticed how your skin and hair look and feel great one day, and then suddenly not the next? If you've been observant enough, you must know by now that it happens when the seasons start to change. Here in Canada, the climate and temperature can shift dramatically when summer transitions into fall. That's what's causing your skin and hair to go haywire.
Most women aren't aware of this. They think that after finding a skin and hair care routine that works, they can just stick to it all year. In reality, your needs will change from season to season. The air is colder and dryer in the fall months, robbing your skin of its natural moisture. It also makes your hair feel dry and brittle, making it frizz up.
The best solution to dryness, of course, is moisture and hydration. In addition to drinking plenty of water, you need to change up your staple products for ones that address your skin and hair drought head-on. For that, we recommend argan oil.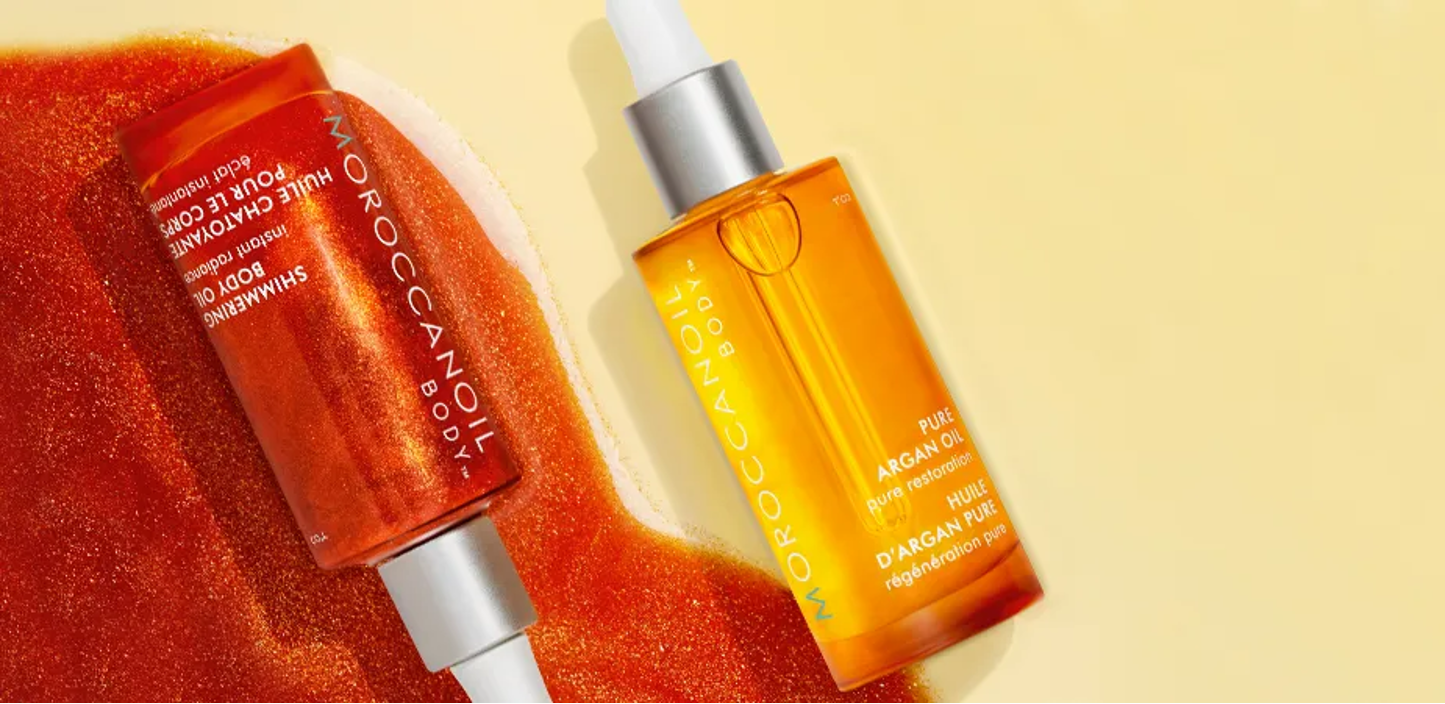 What is argan oil?
Argan oil is one of the most popular ingredients in the beauty industry, used in everything from hair care products to cosmetics. It is an edible plant oil derived from the kernels of the argan tree. This tree is endemic to southwestern Morocco, which is why you'll sometimes see argan oil or products that contain argan oil referred to using the term "Moroccan oil".
Previously only used in culinary preparations, argan oil gained widespread popularity in the early 2000s as a miracle beauty ingredient. It is light and nourishing, able to penetrate the skin to moisture-boosting results. It also helps encourage the creation of healthy fats and lipids that protect the skin's moisture barrier. Argan oil also penetrates hair better, providing the same moisturizing benefits.
There are many brands out there that make use of argan or moroccan oil in their products. If you're looking for one that really knows what they're doing, we here at BeautySense suggest Moroccanoil.
Ladies and gentlemen, Moroccanoil.
Moroccanoil was founded over a decade ago on a single product, the Moroccanoil Treatment. It packed such a punch, that the brand found itself growing at an exponential rate. Now considered one of the leading authorities on argan oil and argan oil-infused products, Moroccanoil now offers a full range of hair and body care selections that all contain the antioxidant-rich headline ingredient.
In addition to having excellent products, Moroccanoil is also an exceedingly environmentally-conscious beauty brand. They utilize post-consumer recycling in their packaging; all their products are also PETA-certified cruelty free. They also support Oceana, one of the world's largest advocacy organizations dedicated to ocean conservation.
We can't sing enough praise for the brand, but we love their products just as much, if not more. This autumn, protect your skin and hair with these selections from our catalog:
Body oil is a great way to lock moisture into your skin, especially during the colder months. It's best when used in conjunction with a moisturizing lotion, layering the products on top of each other. Moroccanoil's Dry Body Oil prevents your skin from feeling like sandpaper with super moisturizing argan oil, which is high in vitamin E, essential lipids, and antioxidants. The product combines this with olive and avocado oils, both also known for their nourishing properties.
One of the best things about the Dry Body Oil is that it's practically weightless and absorbs quickly to soothe dryness. For best results, rub a few drops of this product all over your skin after showering and applying a hydrating lotion.
2. Moroccanoil Hydrating Mask
Hair tends to become brittle, frizzy, and dull when the temperature starts to drop. Using a hair mask twice a week can help combat those effects. In addition to much-needed moisture, hair masks can help strengthen hair and improve scalp health. They'll leave your hair shinier and softer, too.
The Hydrating Mask comes in two variants to address the needs of different hair types. For fall, we recommend the Weightless Hydrating Mask for those with fine, dry hair. Meanwhile the Intense Hydrating Mask is best for those who have medium to thick dry hair.
Weightless
Like all of the brand's products, the Weightless Hydrating Mask is enriched with argan oil. The formulation also includes soothing shea butter and behentrimonium chloride, a chemical compound that helps fight static.
Intense
In addition to argan oil and behentrimonium chloride, the Intense Hydrating Mask includes linseed extract, which is rich in alpha linoleic acid that nourishes the hair. Glycerin adds to this mask's moisturizing properties.
Detoxing your scalp is a must after summer ends and autumn begins. A clarifying shampoo can help remove all the build-up that has accumulated at your roots from salt or chlorine, or from using products like sunscreen or hair oil.
Give your hair a deep and thorough cleansing with this Clarifying Shampoo. Guaranteed sulfate-free, it's also packed with ingredients your scalp and hair will love. This includes soothing lavender and chamomile, rosemary to stimulate hair growth, and jojoba oil, which can protect against dryness and breakage. The shampoo also contains keratin, an essential protein that helps lend strength back to brittle hair. Rounding up the ingredients is panthenol, a variation of Vitamin B5 that provides unbeatable shine and gloss.
No list of essential Moroccanoil products would be complete without the OG–the one that started it all. The Moroccanoil Treatment Original is a product exclusive to the brand and can't be found anywhere else.
This multi-purpose hair treatment liquid can be used to condition and style the hair with its detangling properties. It can also help speed up the time it takes to dry your hair. As a finishing oil, it's great for taming baby hairs and flyaways. It also provides head-turning shine, making your hair look and feel healthier.
Make sure you're ready for all the changes that autumn is bound to bring with Moroccanoil. For more skin and hair care options, check out our dedicated sections here and here.