What Is the Skincare Makeup System?
The Skincare Makeup System by jane iredale is a 3-step primer, foundation and setting spray system that delivers high-performance, lasting makeup coverage and nourished, healthy-looking skin.
Intrigued? Read on to find out how these 3 products came together to complete the perfect trio.
How the perfect skincare makeup trio came to be
PurePressed Base Mineral Foundation
The iconic PurePressed Base came first. It was the first product Jane Iredale herself would put on women's faces in medical offices, spas, trade shows and everything in between because the mineral powder is an all-in-one foundation, powder, concealer and sunscreen. Jane would always suggest applying a moisturizer first, so the minerals would adhere to the skin better and give more smooth coverage and was often asked if she had a moisturizer…
As Jane continued to discover the potential and benefits of PurePressed Base, being formulated without fillers and synthetics, she paid close attention to the skin and how it looked at all stages of wear throughout the day. Because the minerals were concentrated pigment, the look of clear, flawless skin was easy to achieve with a quick brush of powder. No matter how much was applied, the skin still looked like skin – and it lasted! Jane Iredale tells the story of when she visited a Soap Opera set that was using her makeup for the actors on set, she told us, "The makeup artists were sitting with their feet up in the control room, happily relaxed because they weren't darting out onto the set to touch-up makeup every few minutes. They literally applauded when I walked in".
Pommisst Hydration Spray
Paying close attention to how PurePressed Base would wear throughout the day, Jane noticed that after a while, the minerals would set themselves. This meant, that as they gradually mixed with the skin's natural moisture, they looked better and better. Naturally, while Jane did her applications, she wanted to show women that look right away, rather than having to wait for it to happen naturally. That's when the hydration sprays were born. A quick spritz over the minerals set them perfectly and gave the skin that natural "moist" look. Jane noted, "From the moment we brought out our first bottle of Pommisst Hydration Spray, it has never ceased to be one of our top sellers".
Smooth Affair Brightening Face Primer
So, there is the story of PurePressed Base and Pommisst. Next to join the trio was the moisturizer that so many women had asked for. Jane realized that moisturizers are not a one-size-fits-all solution, so instead of developing a moisturizer, she developed a primer that could be worn with or without a moisturizer under it.
There were specific requirements for this primer such as, it had to be beneficial for the skin, allowing it to breathe and function normally. It also had to "feel light, not sticky, prevent moisture loss, and provide a smooth surface on which the minerals could adhere". Although these requirements had made the formulation process a challenge, eventually Smooth Affair Brightening Face Primer was born. Jane Iredale loves everything about this product. She says "I love the way it feels, the way it smells, and the fact that I can wear it by itself and often do. It has a calming effect on the skin that never fails to work for me".
Voila – we have our Skincare Makeup System. A beautifully powerful skincare makeup trio that is used and loved by millions around the world.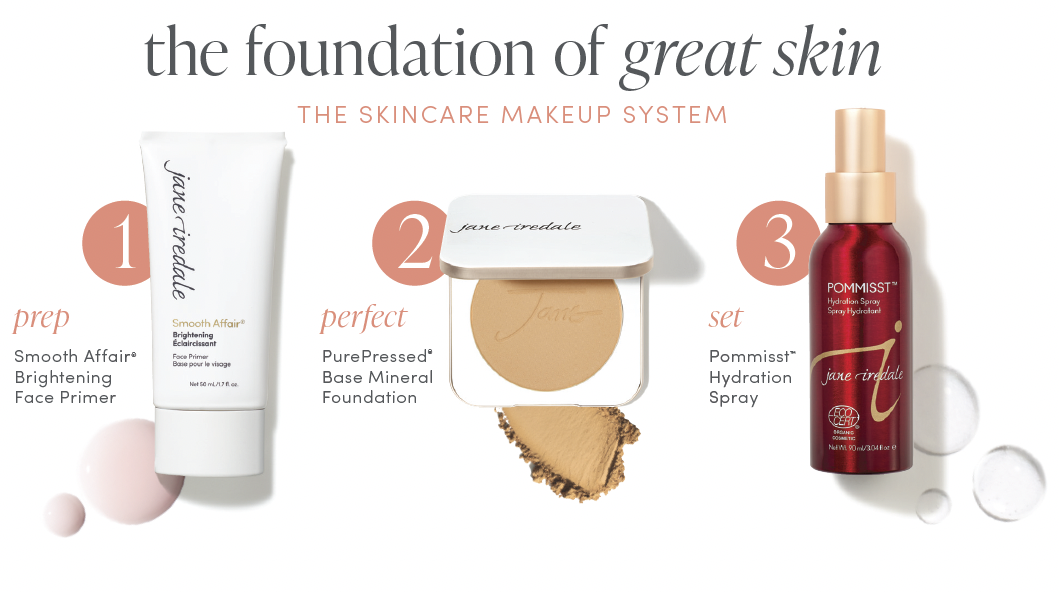 Products featured: